Multi-Format Ad Zone set up
Multi-Format Ads allow you to rotate different formats within an ad spot, focusing on the ones that have the highest eCPM. Multi-Format ads are easy to set up: all you need to do is to place the Multi-Format ad script in your website, as with any other standard Ad Zone.
Step 1: Create a new Ad Zone​
To create a Multi-Format Ad Zone, go to Sites & Zones, click New Zone, and select Multi-Format.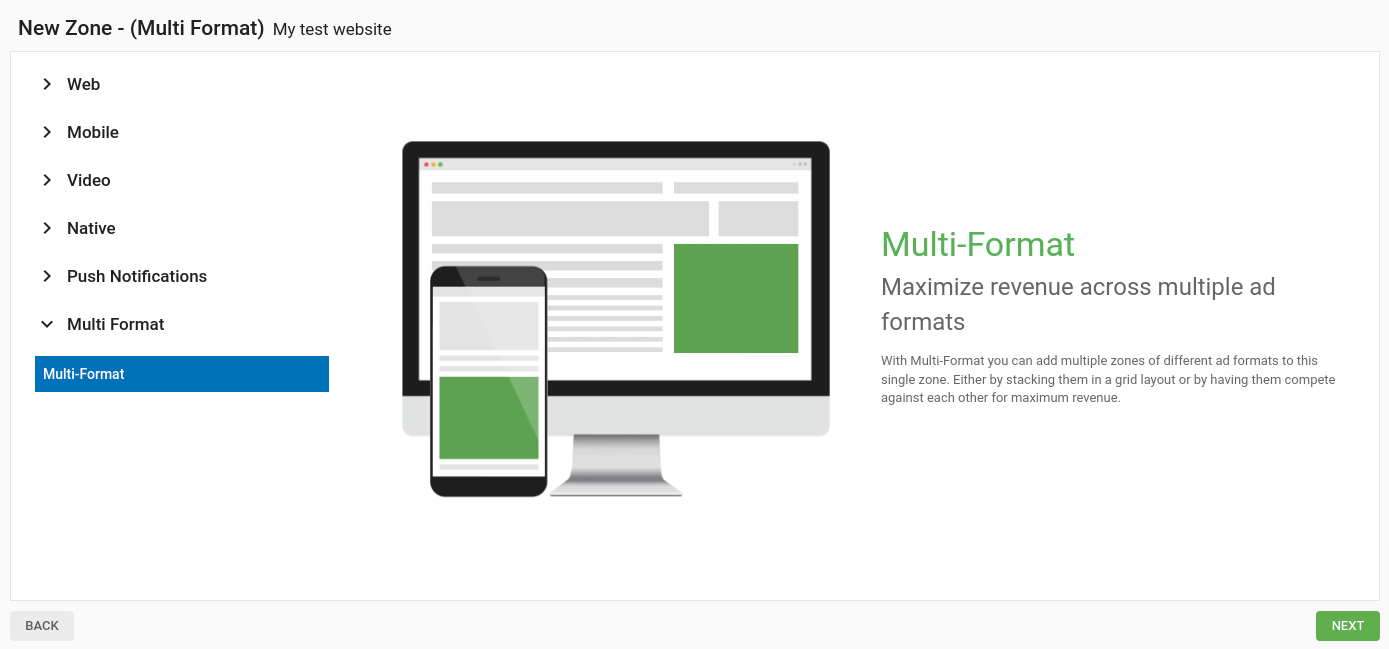 Step 2: Select the zones for Multi-Format​
Once you have selected Multi-Format, you will see a list of existing Banner and Native (Recommendation Widget) ad zones from the site you selected. You need to select the zones that will rotate in the Multi-Format ad zone.
Note: If there are no zones on that site yet, or no zones with Banners or Native formats, you will not see any in the list, and will not be able to create a Multi-Format Ad Zone.

Next, tick the boxes beside the ad zones that you want to use in the Multi-Format ad zone. The zones you select will compete against each other for eCPM price. Whichever zone gets the highest eCPM value will display in the Multi-Format ad zone.
For Banner ad zones, you can choose from several ways of displaying them from the Multi-Zone Layout drop-down on the right:
Single Zone: If you choose this option, the zone that wins will display only once in the Multi-Format ad zone.
Horizontal/Vertical x2, x3, x4: Choosing these options will display the winning zone multiple times horizontally or vertically.

Native ad zones however, can only be shown as a Single Zone, so you can't choose anything from the Multi-Zone Layout drop-down. It is marked as N/A.
Notes:
The minimum zones that can be selected are 2.
The maximum zones that can be selected are 10.
Step 3: Integration Snippet Code​
After you click Create, you will receive the ad zone code you need to put on the website in order to display ads. The id zone number generated will be a unique number of the ad zone you have created.
Note that you can also add Keywords and Sub IDs to your code in order to offer more details about your traffic to advertisers and allow them to fine-tune their optimization of your traffic.
How to check your Multi-Format Ad statistics​
In your Statistics, you can review the results of your Multi-Format ad zone as well as the results of each zone ID within the Multi-Format. Under the Multi-Format zone Details, you will find to which Multi-Format zone ID each zone belongs to: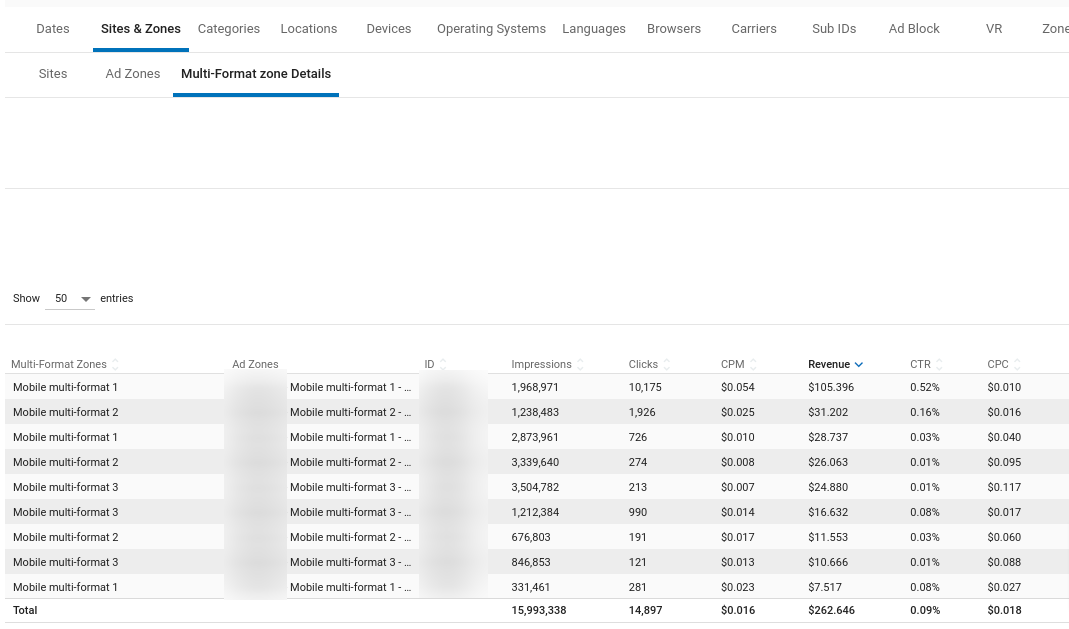 And that's it! If you have any problems with setting up your Multi-Format ad zone, please contact your Account Manager or a Customer Success Specialist here.