In-Page Push: How to set up a In-Page Push Notification ad zone
What is an In-Page Push ad?​
In-Page Push ads, also known as "Native Push", are a type of display ad that is designed to look like a Push Notification but, unlike traditional Push Notifications, In-Page Push ads are displayed directly on the publisher's site, similar to a banner ad. The format is fully responsive across desktop, tablet and mobile.
In this tutorial, we will show you how to create an In-Page Push Notification ad zone and explain all the available settings for this format.
Step 1: Create zone​
Go to Sites & Zones then click on New Zone: this will open the ad format selection page. Click on the drop down menu Push Notifications, then select In-Page Push Notifications and click Next.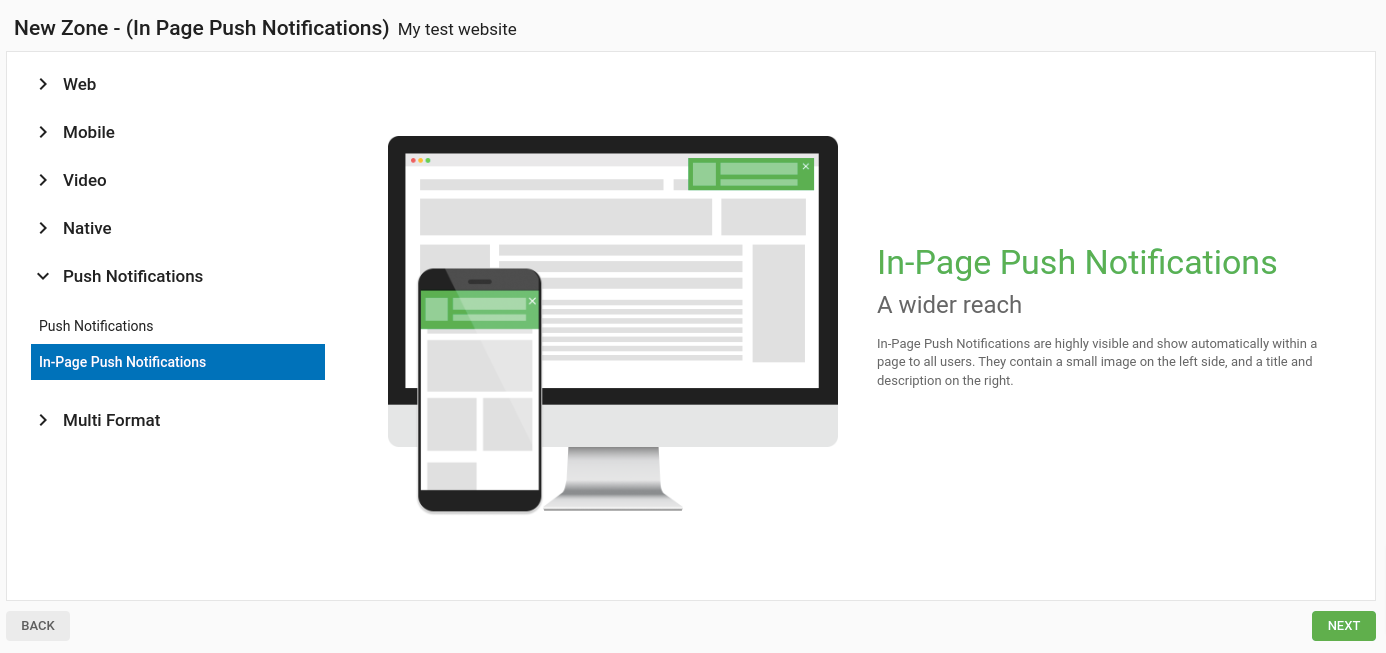 Step 2: Choose the settings for the In-Page Push Notification​
There are several settings you can choose from when setting up your ad zone. This tutorial will focus on those specific to In-Page Push:
Position​
These are the different positions you can place the ad zone:
Vertical Position: Choose whether to display In-Page Push at the Top (default), Middle or Bottom of the page.
Horizontal Position: Choose whether to display In-Page Push at the Right (default), Center or Left of the page.
Ads amount and timing​
You can have 1 or 2 In-Push Notifications per page. Here is the explanation for each setting:
Delay for 1st Notification: Set the time delay in seconds for the 1st In-Page Push Notification to appear.
Max Number of Notifications on Page: Set the number of In-Page Push Notifications you want to display on the page.
Delay between 1st and 2nd notification: Set the time delay in seconds between the 1st and 2nd In-Page Push Notifications being displayed on the page.
Once closed, hide for: Set the amount of time that the In-Page Push is hidden for once the user closes it. Note that, if you are showing 2 notifications, then both notifications need to be closed in order to apply this time restriction.
User Session Capping: Set a limit on how many times a single user will see In-Page Push display in a single session.
Step 3: Generate the ad zone code​
Once you click "Create", the ad zone code will be automatically generated for you so that you can cut and paste it into your site.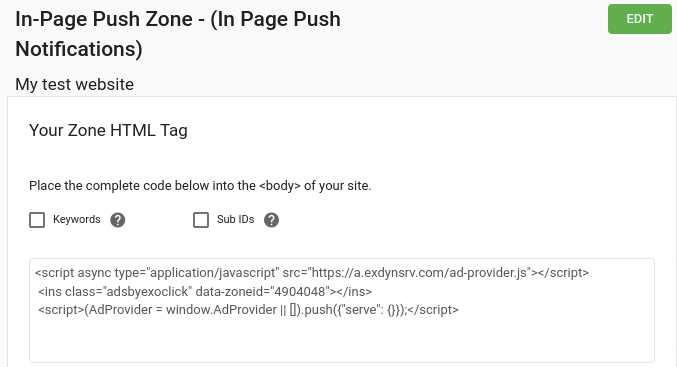 Note that you can also add Keywords and Sub IDs to your code in order to offer more details about your traffic to advertisers and allow them to fine-tune their optimization of your traffic.
And that's it! If you have any problems with setting up your In-Page Push Notification ad zone, please contact your Account Manager or a Customer Success Specialist here.