How to create a Desktop or a Mobile Fullpage Interstitial campaign
Fullpage Interstitial ads (aka. FPIs) are postitial ads that appear between page loads on a website. Usually after clicking on a link, the ad displays on fullscreen with a small button at the top that allows the user to skip the ad.
FPIs are a popular ad choice because of their size, which allows an advertiser to have a larger piece of real estate on the device's webview. This enables to promote their offer with compelling creatives, which in turn generates a higher CTR and viewability.
FPIs are also a great alternative to Popunders because they are compliant with Google, so you can access those sites where popunder is not possible.
How to create a FPI campaign​
Although the behaviour is the same, Desktop FPI and Mobile FPI are separate formats, meaning that you will have to select one of them when setting up the campaign: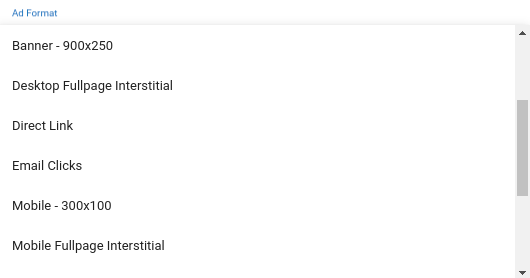 The main reason why they are separate formats is because of the size of the creative. Desktop FPI requires a 1600 x 900 banner, whereas Mobile FPI uses a 900 x 1600 one.
Note: if you want to target Mobile devices, but you want to serve ads only to those Mobiles who are using landscape mode, then it would be better if you created a Desktop FPI in order to serve the ad horizontally. However, we don't recommend you to do this because Mobile FPI has a much bigger volume of mobile traffic.
The rest of the settings are chosen similarly to what you would do with any other campaign. You can find a detailed explanation of each of our targeting settings in the main advertiser section from this documentation
Make sure to enable conversion tracking in your campaign in order to measure the profits from your campaign. This will also allow you to enable advanced optimization features, such as Bidder in order to optimize their bidding prices.
Iframe FPI campaigns​
If your account is allowed to run Iframe/HTML campaigns, you must ensure that the landing page opens in a new tab when clicking on the ad. Failing to do will lead to campaign rejection.
On the other hand, you can use the iframe to measure whether the ad has been actually displayed to the user. To learn more about this, please check our Iframe Events page.
If you would like to enable Iframe campaigns in your account, please contact our Customer Success team.
Benefits of the FPI​
You can learn more about the benefits of running a FPI campaign in our blog.