Outstream: How to set up an Outstream campaign
The Outstream Video ad is shown to the end user during their user journey and is fully responsive, playing on desktop, tablet and mobile.
Publishers set the positioning on their website for when the video ad will trigger. As the user scrolls down the page the ad zone pushes the website's content down and the Outstream ad starts being visible to the user. This is really eye catching to the end user.
Once 50% of the Outstream ad zone is viewable on screen, the video ad automatically plays on mute, the end user can unmute the video ad. Clicking or tapping the video ad opens your offer's landing page in a new tab.
As the end user scrolls further down the webpage the video ad will pause, waiting to resume playing when the end user comes back to the content where the Outstream ad is located.
Step 1: First, go to the "Campaigns" tab and click "New Campaign"

Step 2: General
Enter the name for the ad campaign and set the Video format in the ad selector.

You can also add the campaign to a group and create groups to add it to.

The Outstream Video zone type will appear along with the other zone types, Video Slider, In-Stream Video (VAST)

The ad will run on ALL zone types by default, but you can choose what zone types to include or exclude using the selection buttons.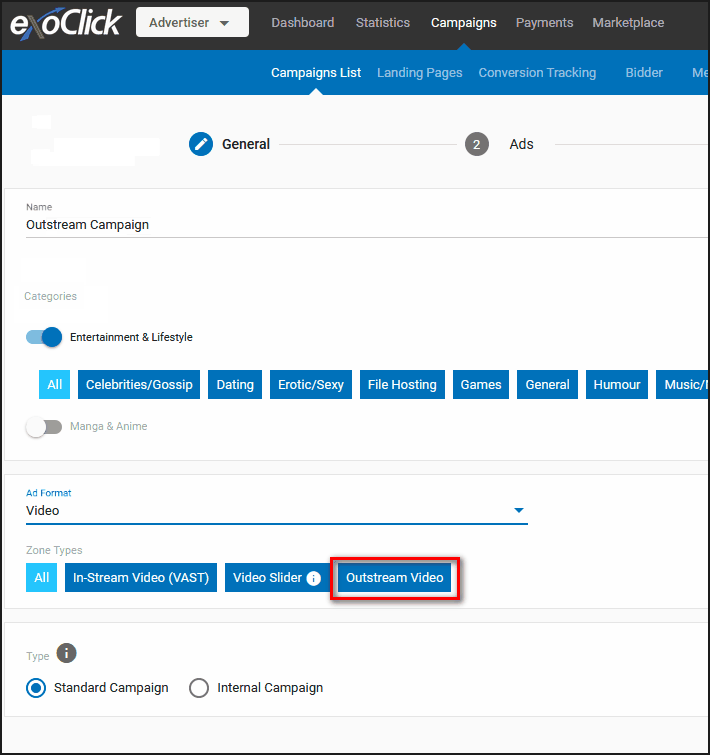 Step 3: Ads – Create the ad variations for the campaign and select a Distribution Algorithm to distribute traffic between them. Below is Step 3's flow:

Creative specs: Outstream video is fully responsive so only these standard video specs apply:
Type: MPEG-4 video (video/mp4)

Video Codec: H.264

Audio Codec MPEG-4 AAC

Please note we are aligned with the IAB standards video file weight is limited to 50MB.
Step 4: Targeting – Here you can target or exclude in the campaign by Location, Devices, Operating Systems, Languages, Browsers and Mobile Carriers, etc.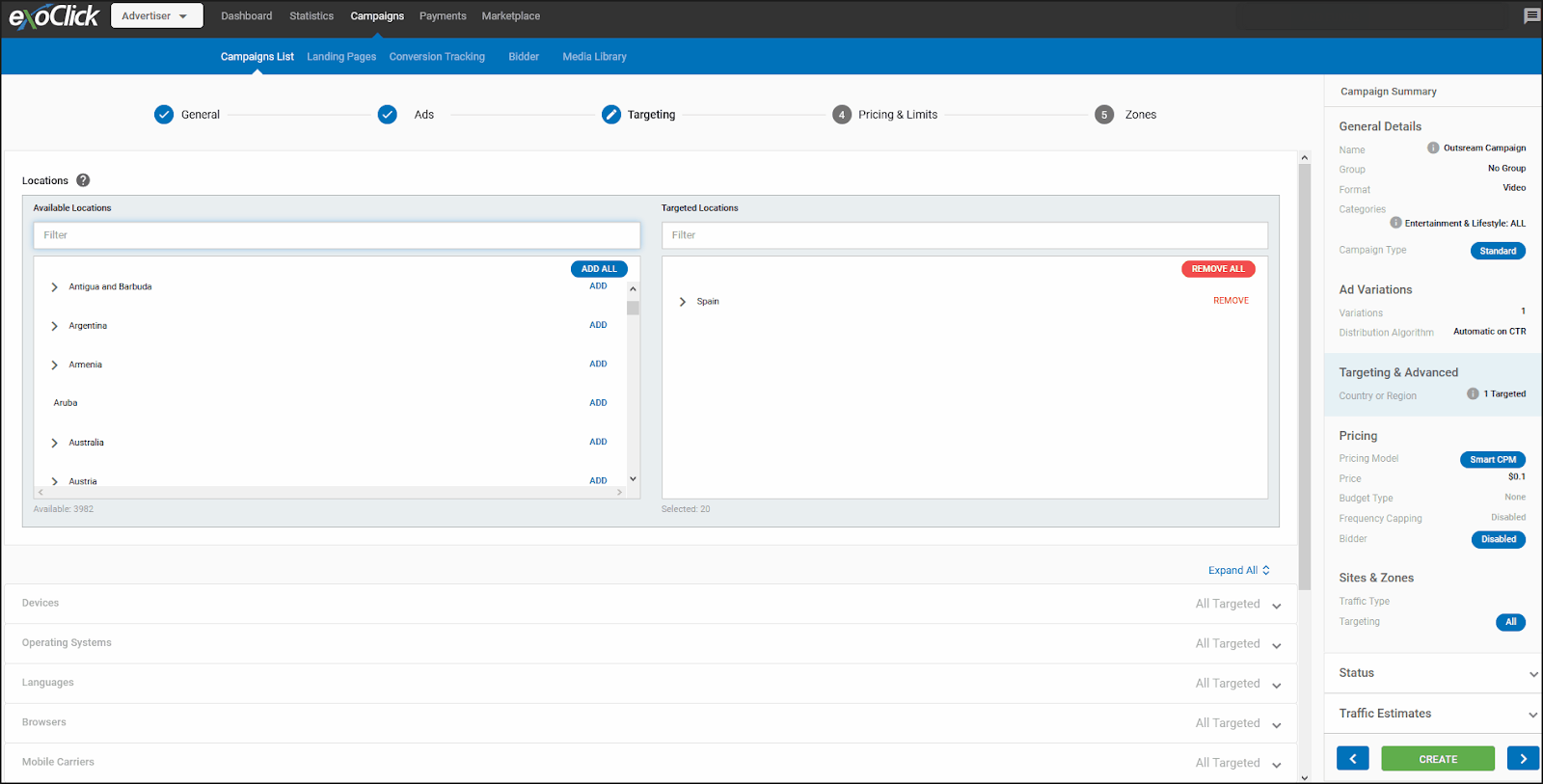 Step 5: Pricing & Limits
In the Pricing & Limits tab, you choose the Pricing model used (Smart CPM, CPM, CPC, or CPV) and Frequency Capping for the campaign.

You can establish Limits (Daily or Total) in your campaign or set a set Time Period for the campaign to run using the Start Date and End Date.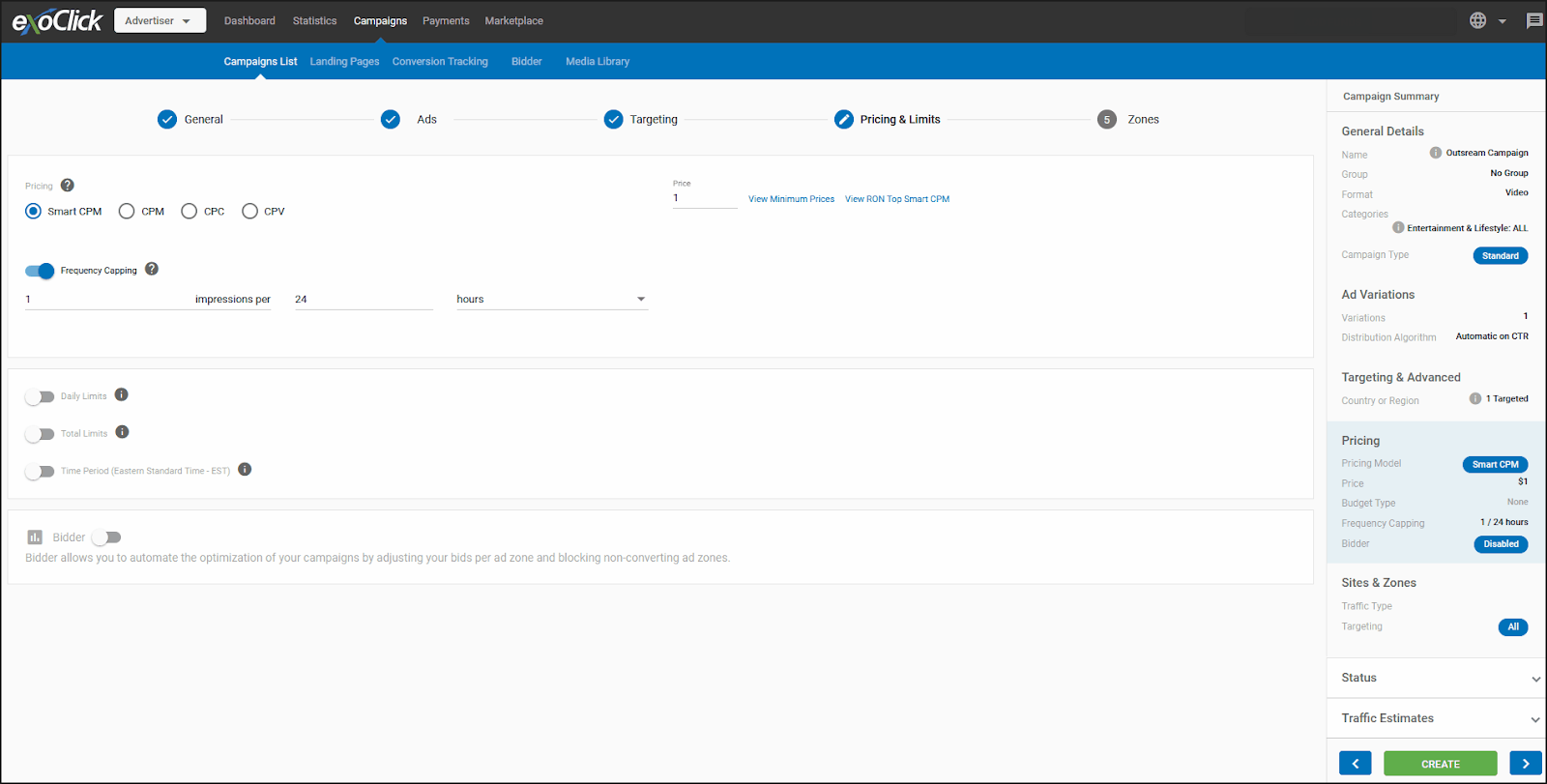 Step 6: Zones – Here you can choose which sites and zones to target and exclude.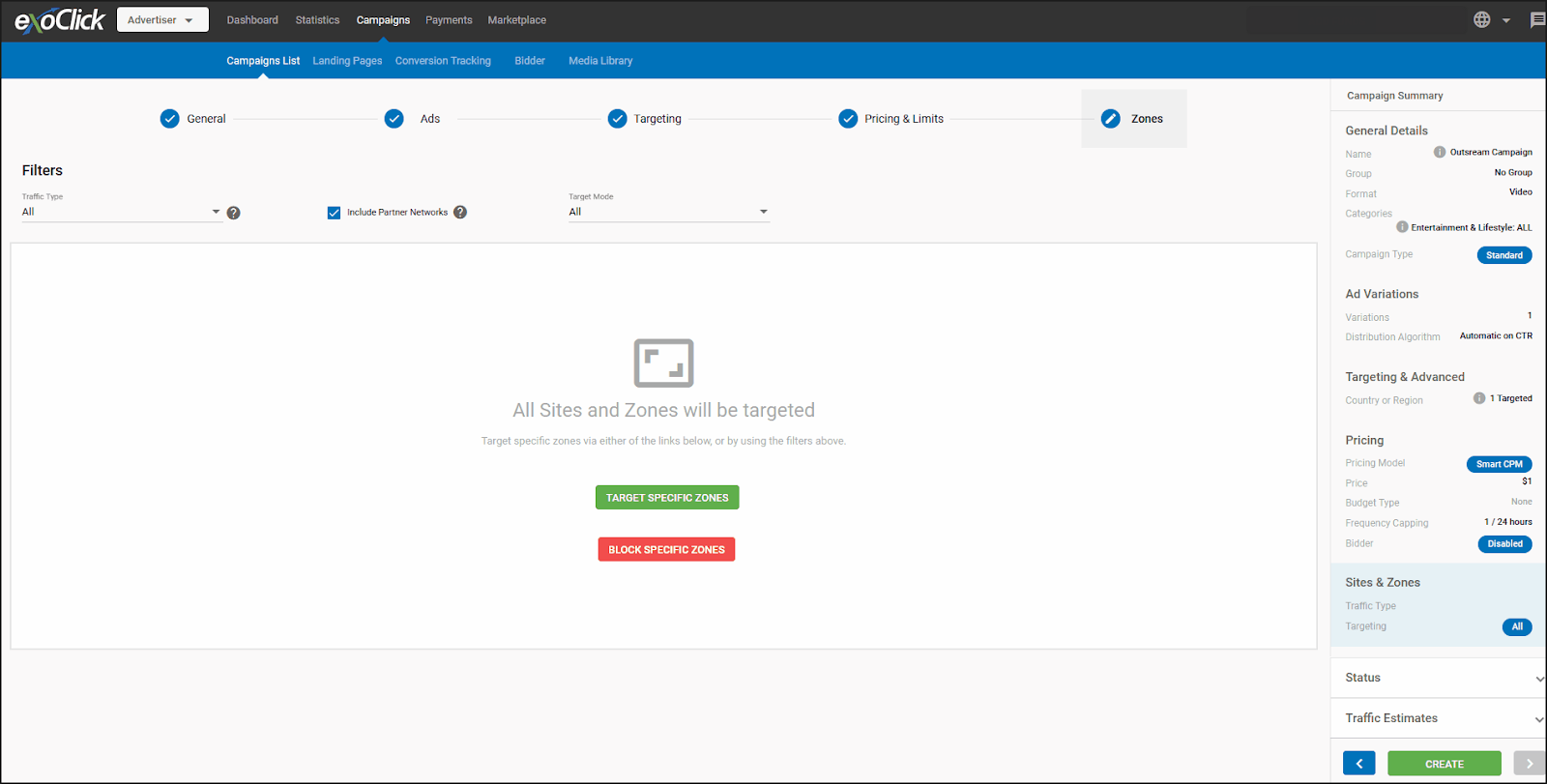 For best practice tips please check our Advertiser Guide to using Outstream Video.