Emojis: How to add emojis to your campaigns
Adding emojis to your campaigns is proven to really increase engagement with end users. Emojis make your campaign stand out over the site's text and make your campaign closer to the end user.
Emojis are available for Native and Push Notification campaigns. You can add emojis to your campaigns in 3 simple steps:
Step 1: Select "Native" or "Push Notification" format when creating the campaign: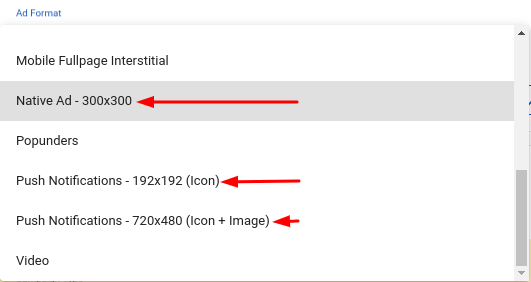 Step 2: Get the emoji you want to use from an emoji website such as https: or .
Note: The design of the emoji depends on the OS where the ad will be displayed, meaning that an emoji will look different on Windows, Android, iOS, etc. Some emojis will not show properly if the OS version is too old, so make sure you have your target audience in mind when picking the emoji.
Step 3: Paste the emoji in the Title or Description field:
Native and Push Notification variations have a limit of 90 characters in Titles and Descriptions. However, you don't need to worry about this because emojis only count as 1 character.
You can add as many emojis as you like, but we advice you to use them sparingly to ensure you get your message across and avoid confusing the end user. You can find some ideas on how to use emojis effectively in this blog post