Push Notifications: How to add emojis to your push notification campaigns
Adding emojis to push notification messages are proven to really increase engagement with end users. Read this blog post '7 emoji tips for push notification campaigns' for statistics and tips. This tutorial shows you how to incorporate emojis in the admin panel for Push Notification campaigns.
Step 1

Create your push notification campaign.

 
Step 2

Go to the Marketing Materials tab and add your texts and image

 
Step 3

Go to an emoji website such as https://getemoji.com/ or https://www.emojicopy.com/ and double click on the emoji you want to use, right click and click copy. Then paste the emoji where you want it to appear in your marketing text.

You can add as many emojis as you like, however, our advice is to use them sparingly to ensure you get your message across and not confuse the end user with too many emojis. Click OK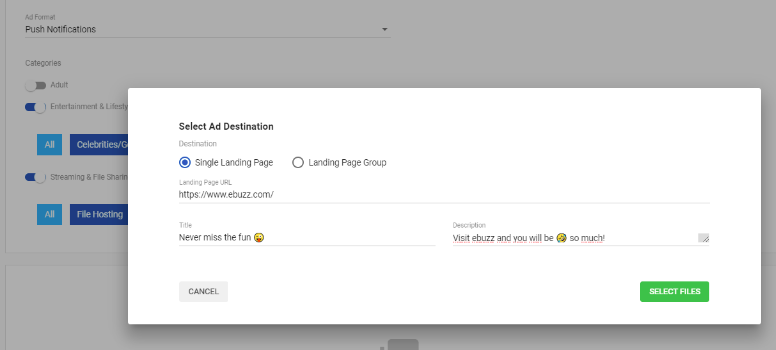 Emoji character sets have been incorporated into Unicode, a standard system for indexing characters, which has allowed them to be used and standardized across different operating systems.
Please note: Emojis are supported on iOS, Android, macOS, Windows, Linux and ChromeOS. Emojis will be displayed with various designs depending on the OS. Some emojis will not show properly in earlier versions of Windows, the latest emoji designs will all show in Windows 10.
Step 4

Finally, carry out some A/B testing with different emojis to see which convert the best.