Setting up your advertiser account
We are happy you have considered ExoClick as a great way to advertise your offers!
Please follow the steps below to start the advertising activity with ExoClick:
Sign up​
Sign up here by selecting "Advertiser - I want to buy traffic" at the bottom of the form.
Create a campaign​
Create your first campaign by following these instructions
Add funds to your account​
All payments must be sent through the Admin Panel. Please check the available payment options here.
Verify your account​
Once your first campaign is created and the first payment is added, your account will be reviewed by our Compliance team. On your Admin Panel you will see:
Account Status: Not Verified
Campaign Status: Rejected - Account Verification in progress. We will contact you within 24 hours.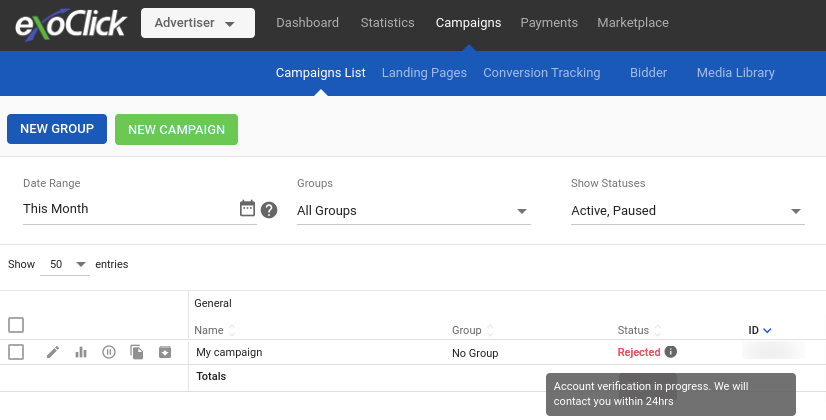 Please note this is a standard verification process for all advertising accounts. If you have any additional questions during the verification process, please feel free to contact our Compliance team using the "Account Verification" reason from our our contact form.
Once the verification process is completed, your account status will be one of the following:
Verified: If your account has passed our verification, your campaigns will start receiving traffic, unless there is an issue with your creatives or landing page (the email you will receive from Compliance will give you more details about your campaign status)
Not Verified: If your account hasn't passed our verification, your account will remain Not Verified and you won't be able to access it again. Funds will be returned to the payment method you used (please check the email from Compliance to find out more about return times).
---
Important notes:
You will always receive an email from ExoClick to confirm the account status once the verification process is completed.
In the same email you will receive the details of the refund if the account does not pass verification.
ExoClick will never keep your funds if you do not pass our verification.
---