How to implement a Mobile Fullpage Interstitial ad zone
The mobile full page interstitial is a postitial ad that appears between page loads on a website. Fullpage Interstitial is triggered on clicks only and displays the ad between the page of origin and destination.
Interstitials are a popular ad choice because of their size and is a great alternative to the Mobile Popunder format. It has a high CTR and high viewability.
Important : We do not recommend Mobile Full interstitial and Popunder ad zones implementation in the same page as this could create a conflict.
Ad filter options (Products and Labels) are available so you can control what types of ad can be shown to your users.
The interstitial is fully responsive and it is fully compliant with Google and The Better Ads Coalition, featuring a 'Close Ad' button in the top right hand corner of the ad format, allowing the user to close the interstitial and continue to view the websites content.
The format is very user friendly, the creative is a 900x1600 banner on the vertical with a maximum size of 150KB, ensuring the ad is aligned with Google and the IAB.
The new interstitial is available on the CPM payment model and includes frequency capping options. ExoClick guarantees a 100% fill rate.
Step 1
In your admin panel under Publisher go to 'Sites & Zones' then click 'New Zone'. A drop down menu will appear with a list of your websites, select the website you want to enable FullPage Interstitial for. This will open the ad format selection page. Click on the drop down menu 'Mobile', select 'Mobile Fullpage Interstitial' and click 'Next.'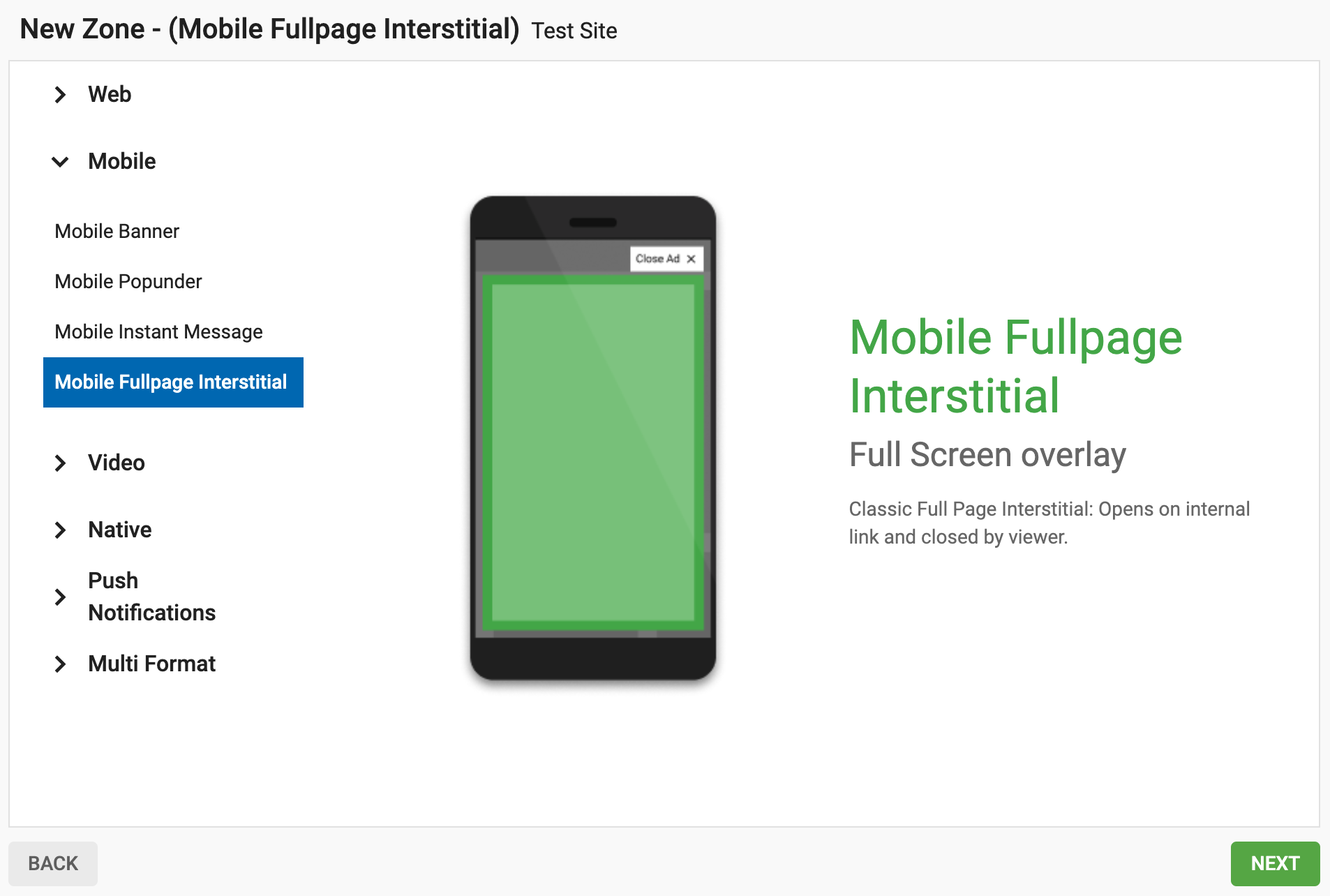 Step 2
Name: Personalise the ad zone name to suit your own needs (at least 5 characters long).
Category (default): This is automatically selected based on the category of the site you selected in the previous step.
Subcategory (optional): We recommend that you don't select a subcategory in order to maximise your earning potential.
Frequency capping:
When setting up a Mobile Fullpage Interstitial ad zone, in the Frequency section, you can now use the radio button to choose between Clicks and Time.
When you choose Clicks, you can then set how many clicks it takes to show the ad for the first time, and how many clicks will make it appear every time after that.
For example, if you set it up like this:
1st time after 3 clicks, then after every 15 clicks
An ad will show after the user's first 3 clicks on the site, and will show again with every 15 clicks from then onwards.

When you choose Clicks, the Trigger Method drop-down sets the type of clicks that trigger an ad, just as it does for Time.
Trigger method : determines when the Mobile Fullpage Interstitial should be triggered.
Browser settings
When creating a Mobile Fullpage Interstitial ad zone, there is now a Browser Settings option at the bottom of the New Zone screen:
All: Choose this option to show the ad zone on all browsers.
Chrome Only: Choose this option to only show the ad zone on Chrome.
Non-Chrome Only: Choose this option to show the ad zone on all browsers except Chrome.
Step 3
In this section you can filter by Google Ad Compliance, Ad type and/or by Specific Products.
Google Ad Compliance: Toggling this button on will ensure that your site only displays ad creatives that are Google compliant.
Block Ad type: This allows you to block advertising based on the audience for your traffic. "General" advertising will show an ad that promotes a product suitable for all visitors.
Block Specific Products: You are also able to block specific product types that you don't want to display in your ad zone. Please note: Blocking too many products, could result in no ads showing, or reduce your revenues significantly.
Once these steps are completed click "CREATE".

Step 4

Once you have clicked 'Create' the ad snippet code will be generated which you will need to embed within the

tag in your site. The id zone number generated will be a unique number of the ad zone you have created.
HTML Example:
<

html

>
<

head

>
</

head

>
<

body

>

<

p

>Fullpage Interstitial</

p

>

<

script

 

type

=

"text/javascript"

>
    

let

 ad_idzone = 

123456

;
    

let

 ad_frequency_period = 

720

;
    

let

 ad_frequency_count = 

1

;
</

script

>
<

script

 

type

=

"text/javascript"

 

src

=

"https://a.exdynsrv.com/fp-interstitial.js"

></

script

>
</

body

>
</

html

>


Note: The page should be mobile responsive otherwise the ad will not display correctly.
And that's it! If you have any problems with setting up your Mobile FullPage Interstitial zone, please contact your Account Manager or a Client Care Specialist here.