Cost of acquisition (COA) tracking
To understand this article, you must know how to create and use conversion tracking. If you don't please read these FAQ's first: API server tracking
COA = Cost Of Acquisition

Once you have created your campaigns and implemented your tracking, you can further optimise your campaigns.

Our system is designed to provide very detailed statistics such as your return on investment for each campaign, in real time!

 
How to create the COA tracking?

First, you must determine the maximum cost of acquisition of a new client or for the specific action you want to track. In other words, the COA is the maximum cost you can afford paying for each new conversion.

 
Example:
You buy traffic to increase your sales on your V.O.D portal.
You followed our suggestions and created 3 trackers.
The membership on your portal costs $39.99 per month and your clients stay 2 months on average.
You know how much a new member spends on your portal and eventually how much you earn.
So you can determine how much you can spend to bring new clients.
Let say $80 (as an example).
In your Administration Panel, click on Advertisers, Campaigns list and click on Conversions Tracking.
Select the tracker related to your payment confirmation page and click on EDIT. In the box COA put 80. Click SAVE.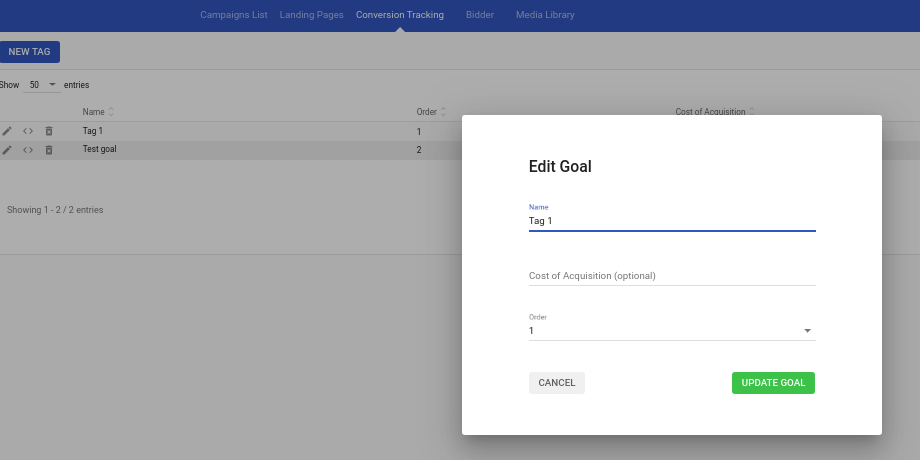 How to use the COA?

It's very simple. Once the COA is added to the right tracker, check your statistics. Now appears a column eCPA next to each Goal counter column (G1, G2,…). You see here the cost of each conversion (calculated with the cost of the campaign divided by the number of conversions).

This eCPA can appear in three different colors:
The number is GREEN : ROI 100% and more. Your return on investment is positive and you are paying less for each conversion than your COA.
The number is ORANGE : ROI of 50% to 99%. Your return on investment is almost ok, check the detailed statistics of the campaign to improve some sources of traffic.
The number is RED : ROI 1% to 49%. Your return on investment is negative and you are paying more for each conversion than you can afford (more than your COA). Check the sources of traffic, check your campaign: there might be a mistake.