What are the costs to run a campaign?
Sign up is free!
The minimum budget you need to run each campaign is 20 EUR/USD, there are no maximum budget restrictions!
How much your campaign will actually cost will depend on your targeting, and your pricing model.
Setting a budget

When you create your campaign consider carefully your budget options in step 4 - Pricing !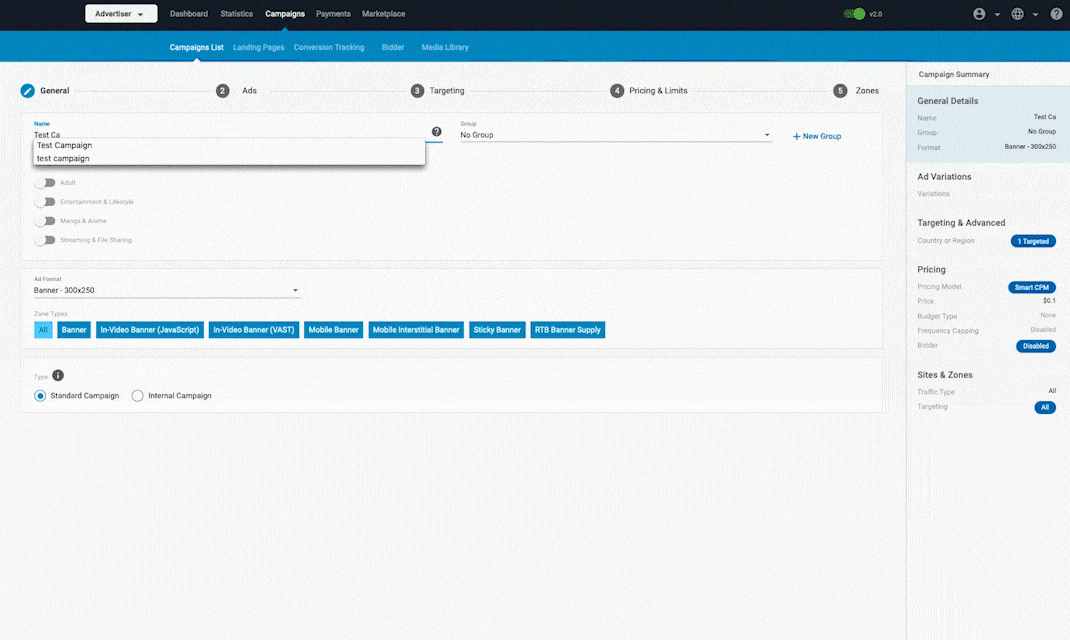 The first thing to consider is the approx traffic you are targeting based on your target settings in steps 1&2. In the example above, the traffic estimation (on the right) shows it's targeting over 2 billion impressions. For such a large volume of traffic having a minimum budget will not be sufficient clearly and your campaign will overspend it. It is highly recommended you target less volume on your campaign to avoid overspending.
Next to the bid price you will see a link to the minimum prices guide, consider which of the pricing models will work best for you and your budget.
Calculate how much budget is required, based on your pricing model, bid price & the amount of traffic targeted.
Consider changing your target settings in Step 1 and/or Step 2 to reduce the total amount of traffic you are targeting if your budgets are small.
Caution

While every effort is made to stop your campaign as soon as your budget is reached, overspends are still possible, if you target settings and bidding options are unrealistic.

 
Additional assistance

If you need advice on campaign budgets please contact our Client Care team selecting the "Optimisation advice" reason here.