Outstream and the Rise of Video
Jan 29th 2021
Increasing use of video​
The use of video advertising has been growing in recent years, and increased by 82% in 2019 alone. Ad spend on video continued to rise in the early parts of 2020, but understandably dipped as the pandemic took hold. However as we move in 2021, video continues to grow in importance and this trend will likely continue.
Video is a great format for connecting impactfully with users, and it has increased along with the rise in mobile device use. Mobile is now the most common way that users view online advertising, and this has been good news for video formats: The nature of mobile screens makes users more likely to engage with video content over text-heavy material, and as a result mobile has been one of the drivers of the growth in video advertising.
Until recent years, most video advertising has been in the form of pre-roll or post-roll ads, that are displayed before, during or after other video content. This way of serving video ads can work well, but it has its disadvantages: The Publisher needs to have video content on their site to insert these ads into, and at least some of the ad is 'forced' onto the user until they skip it. This can make the ad feel intrusive to some users, reducing the likelihood of engagement.
Outstream Video​
Outstream video has emerged in this context over the last few years - allowing Publishers to place video anywhere on a site that plays automatically (normally without sound) as the user scrolls past it. If it catches their interest, they only need to stop scrolling to view it, and can turn on the sound to get a higher level of engagement with it.
This makes the format feel less intrusive and annoying to the user. The ad feels more voluntary to them as a result, and leads to more impactful campaigns.
New ExoClick Outstream Video format​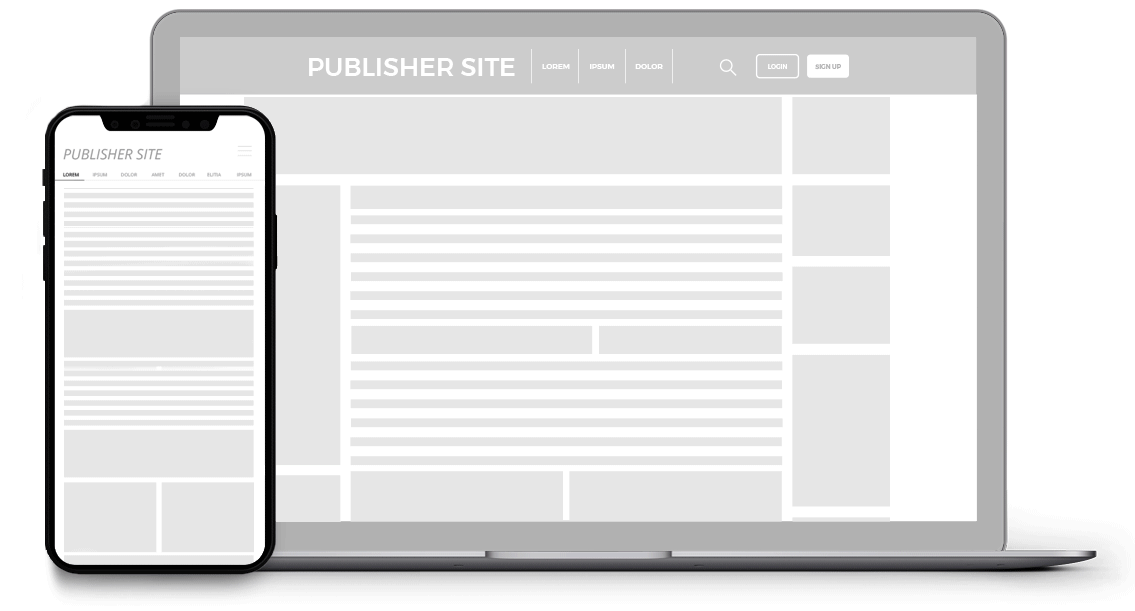 ExoClick have now released their new Outstream Video format, which is an ad format that can be placed anywhere on a site. It plays automatically on mute when more than 50% of it is revealed.
This format is designed to work well on mobile devices and makes it possible for Publishers to place videos multiple times within an infinitely scrolling page. For Advertisers, our implementation of this format guarantees that users will see at least some of a video ad, regardless of whether they click on it or not.
Our Outstream Video ads can appear within a wide range of different content types, from articles to image galleries, which hugely expands their reach. As well as this, as the video starts playing automatically (though without annoying sound), users don't have to wait for a 'skip' button to appear in the clip they are watching to view the ad: The first few seconds of the ad is delivered to every user who scrolls through the Publisher's site, and the user can choose whether to watch more or simply scroll on by. This makes them simultaneously less intrusive, but also more likely to create engagement.
Advertisers​
When creating video campaigns, Advertisers can choose to target Outstream Video zones in the Zones Types section of Step 1: General Details of creating a campaign. For Advertisers:
This format is very visible compared to Instream and Slider.
It is good value and gets a high CTR.
Publishers​
When creating an Outstream Video ad zone, as a Publisher you can set the responsiveness options to ensure that the ad works well on mobile devices, and even use custom sizes to suit your site. For Publishers:
Outstream monetizes well.
It allows them to host video ads even if they don't have videos themselves.
It works well across devices, and is particularly suited to mobile.
A game-changing new format​
Over the past number of years, video ads have been the fastest growing format in online advertising, and this has continued throughout the pandemic year of 2020, and it does not appear that this will slow as we move into 2021. Outstream Video ads let Publishers easily add videos to their offering, whether they have videos themselves or not. For Advertisers, they provide 100% viewability for users, without making them feel forced to watch.
ExoClick is happy to be able to bring this new format to our Advertisers and Publishers and invite you to try it out soon!
Video​
Please view the video to learn about this exciting new format:
Further Reading​
ExoClick Outstream Video Announcement
ExchangeWire on Outstream Video